About Us
Merritt's Boat & Engine Works is a family owned and operated business. We are located on the Intracoastal in Pompano Beach, FL south of the Hillsboro Inlet. Allen Merritt, his son Roy and Roy Jr. can all be found on the premises actively involved in the day to day operations of the boat yard.
The Merritt family name personifies the growth of the boating industry in South Florida. After leaving their Long Island home in 1947 Franklin (Roy) and Ennis Merritt purchased a 10 acre tract of land on the Intracoastal Waterway in Pompano Beach, Florida. In 1948 Merritt's Boat and Engine Works was born.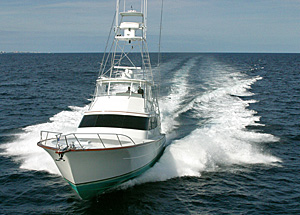 The boat yard was set up primarily to maintain the Merritt family charter boats, in addition to other charter and drift boats in the area. The boat yard soon became a very active place, as the Merritt reputation of quality work, and friendly customer relations grew. The personal qualities instilled by Franklin (Roy) and Ennis still exist in the values of the family, which has enabled the Merritt name to sustain very high standards for the past 63 years.
The boat yard began building boats in 1955. The two sons, Buddy and Allen were involved in much of the yard's daily activities. Buddy managed the boat building division, and Allen was responsible for the supervision and administration of the business. Allen still holds that position to this day. As an avid fisherman, Buddy built what he perceived to be the perfect fishing boat. The first of his 37 footers were totally lacking the comforts taken for granted today. They were built for one purpose... to catch tuna fish. The results were a huge success. It became immediately obvious to the boating community that the Merritt name would not only represent outstanding service and repair, but also ground-breaking boat construction and expertise.
Many changes have occurred since the boat yard was started in 1948. While the 37 footers have grown to include yachts up to 86 feet, with many luxurious enhancements, the small Mom & Pop ambiance of the boat yard has basically remained the same. Many of the boat yard staff have remained dedicated to the company for decades, becoming truly a part of the Merritt family.
Although Merritt's is well known for boat building, service and repair, the Company has branched out over the years to include Merritt Boat & Engine Works Brokerage (a Full Service Yacht Brokerage), Merritt Marine Supply (a Wholesale Marine, Aviation and Industrial Supply Company) and Smith-Merritt Insurance (a Marine Insurance Business). Everyone at Merritt's looks forward to servicing our customers for many years and new customers are always welcome.